CLUSTER MASS / VOLUNTEERS NEEDED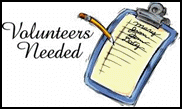 On Monday, February 19th, we will be hosting all the parishes in Collinwood for our Lenten Cluster Mass. After Mass, everyone is invited to our Lower Hall for food and fellowship. We need volunteers to bake, set up and clean up. Those willing to help out are asked to sign up at the main entrance to the church or contact Ingrid Civinskas at: icivinsk@yahoo.com or call 440-838-0652.
PLEASE PRAY:
We ask you to remember in your prayers the soul of Dianne Oloff who died last week and was buried from our parish. May she have eternal rest in the peace of God's kingdom.
ROOTED IN FAITH:
Over the past five years, we have received $59,894.00, from the Rooted in Faith Campaign, which is 30% of the money our parish raised for the campaign. As the campaign draws to a close, the diocese collected $147 million of the $170 million pledged, which is 87%. The projection was only 85%. During this year, the diocese will still record pledge payments and will send any further distributions in January, 2019. When it is completed, we will receive a detailed report of donors, pledges and payments. We thank everyone who pledged and donated to this important financial campaign in our diocese.
100 YEAR CELEBRATION
All are invited to celebrate the 100th Anniversary of the restoration of Lithuania's Independence. The celebration will take place on Saturday, February 17th, beginning at 2:00pm at Cleveland State University's Main Classroom Auditorium (1899 E 22nd St., Cleveland). Close to 200 performers – singers and dancers from Toronto and Montreal, Canada, and Cleveland will entertain with song and dance. Following the performance, beginning at 6:00pm, there will be a banquet at the Crown Place at Playhouse Square (1260 Euclid Ave., Cleveland) Tickets to the performance are $25 (age 21 & under $10) and banquet tickets are $50. Bus transportation will be available before and after the concert from the Lithuanian Club. For more information or to purchase tickets, contact Virginia Rubinski 216-486-9023.
THE CELEBRATION CONTINUES…
Saturday February 24th, at 7:00pm in the St. Casimir Parish Auditorium there will be a special concert to continue celebrating Lithuanian Independence. Soloists from Lithuania, Liudas Mikalauskas and Nida Grigalavičiūtė with accompanist Vytautas Lukošius will perform some of the most acclaimed Lithuanian songs from the past 100 years. Tickets are $20 (no charge for those under 21) and are available in the cafeteria after the 10:00 Mass or by calling Zita at 216-355-0829 or Virginija at 261-526-5609.